Christmas Trees have arrived!
Mile 5.2 Greenhouse has the best selection of fresh Christmas Trees in the Anchorage, Eagle River and the Mat-Su Valley. We have a reputation for quality trees. We end cut each tree and send it off in a large plastic bag for the ride home. Shop for your tree in a warm inviting greenhouse environment where the smells of Christmas are wafting through the air.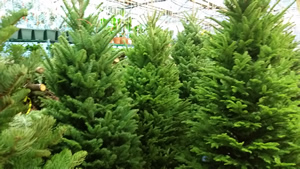 Our Noble Fir Christmas trees are USDA #1 Grade and range in height from five to nine feet tall. The fragrant Noble Fir tree is beautifully symmetrical with stiff evenly spaced branches perfect for those heavy Christmas ornaments. Known for its lush beauty, the Noble Fir Christmas tree has long keep ability and needle retention that will ensure freshness throughout the holiday season. Our Alaska Christmas Trees are fresh, never frozen and sure to be a holiday delight. We end cut each tree and send it off in a large plastic bag for the ride home.
From NobleMountain.com – The Noble Fir tree (Abies procera) is a western North American fir, native to the Cascade Range and Coast Range mountains of extreme northwest California and western Oregon and Washington in the United States. Long considered an excellent Christmas tree because of its beauty, soft needles, stiff branches and long keepability, the species is growing in popularity. The branches of the Noble fir are evenly spaced and have needles that are roughly 4-sided (similar to spruce), over 1 inch long, bluish-green and are generally twisted upward so that the lower surface of branches are exposed.
The Mile 5.2 Greenhouse and Gift Shop is a unique one of a kind retail nursery and gift shop situated on one acre of view property in Downtown Eagle River. We have a wide selection of Perennials, Herbs, Vegetables, Annuals, Hanging Baskets, Trees, Shrubs, Fruit Trees, Berry Bushes and indoor tropical