Awake to the smell of lemon blossoms in your own home. Watch and wonder as the flowers turn into fruit. Meyer Lemon Trees will flower or fruit year round. Our Lemon Trees are fascinating to grow. With a few simple instructions, the trees are also easy to care for.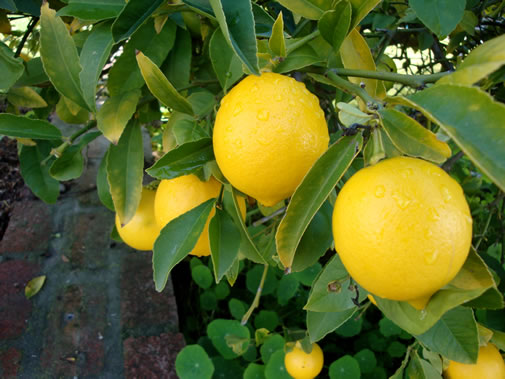 Your Meyer Lemon Tree tree can be placed on a patio or deck during the summer; so roughly, outside on Memorial Day and back inside on Labor Day. To start out place the tree in partial shade and out of the wind for a week then gradually transition to full sun. The trees thrive outside even during a cool, rainy, windy Alaskan summer. Use a fertilizer with that is high in nitrogen. At Mile 5.2 Greenhouse we supply an organic fertilizer specifically for citrus trees. The time from the first blossoms to when you can pick the lemons is generally six to nine months. The trees self pollinate.
Meyer Lemon Trees require 8 – 12 hours of "summer time bright" sunlight a day. It is essential in Alaska to provide a fluorescent grow light from September 1st through April 1st. The more light the better. Pick up your plant light in our grow section while selecting your tree.