We sell Pre de Provence soaps with 10 different fragrances in our gift shop.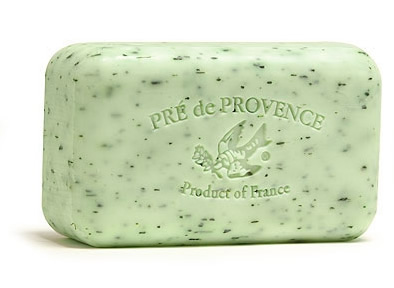 Apple Pear
Citrus Fruit
Green Tea
Lemon Grass
Lime
Raspberry
Rosemary Mint
Rose Petal
Verbena
Violette, Sugared Violets
An example:
This new Pre de Provence Rosemary Mint quadruple milled soap is invigorating and lightly exfoliating. Rosemary and Mint Leaf Pre de Provence French Soap Bar:
Natural mint and rosemary leaf
5% shea butter enriched
All vegetable
Individually wrapped to preserve scent and freshness.
Luxurious lather followed by amazingly soft skin. With regular use, you'll find you'll need less moisturizing after stepping out of the shower.