Pineapple Plants
Did you know that Mile 5.2 Greenhouse sells Pineapple Plants? And no they are not 10 feet tall!
A pineapple is one of the few tropical fruits that are really well suited to growing in pots, and that means you can grow pineapples indoors.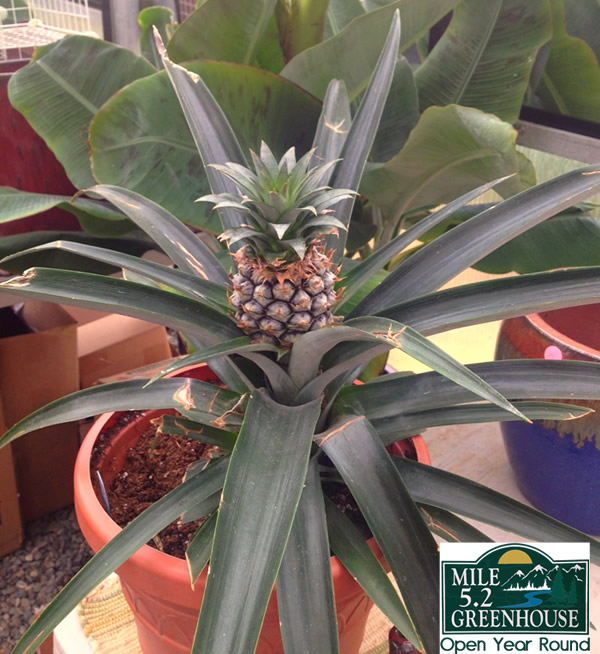 A few things you should know about pineapple plants:
• Pineapples don't need much water. They have very tough leaves so they don't lose much water through evaporation. They can get by on very little.
• Pineapples don't need much soil or high quality soil. They belong to the family of bromeliads, and like all bromeliads they do not have a big root system.
• Pineapples get a lot of their water and nutrition through their leaves.
• Pineapples like slightly acidic soils, which is what most gardens have anyway.
• Pineapples grow in full sun, even in the hottest climates, but they also do well in dappled shade.
• Pineapples grow very happily in pots or tubs.
What pineapples do not like is:
• Soggy, waterlogged soils
• Having their leaves burned with concentrated fertilizers
• Frost
THE HISTORY OF THE PINEAPPLE
From Dole.com – The pineapple – fierce on the outside, sweet on the inside – was given its English name for its resemblance to a pine cone. Christopher Columbus brought this native of South America back to Europe as one of the exotic prizes of the New World. In later centuries, sailors brought the pineapple home to New England, where a fresh pineapple displayed on the porch meant that the sailor was home from foreign ports and ready to welcome visitors. Pineapples were the crowning glory of lavish American banquets, and were considered the height of extravagant hospitality. Even George Washington grew them in his Mount Vernon hothouse.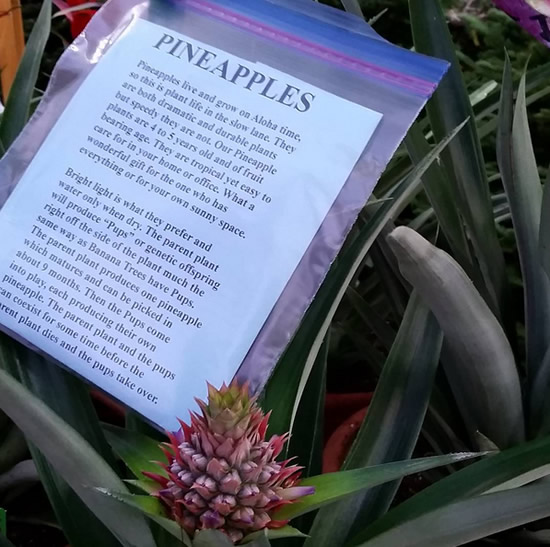 No one knows when the first pineapple ("halakahiki," or foreign fruit, in Hawaiian) arrived in Hawai'i. Francisco de Paula Marin, a Spanish adventurer who became a trusted advisor to King Kamehameha the Great, successfully raised pineapples in the early 1800s. A sailor, Captain John Kidwell, is credited with founding Hawaii's pineapple industry, importing and testing a number of varieties in the 1800s for commercial crop potential. But it wasn't until James Drummond Dole arrived in the islands that the pineapple was transformed from an American symbol of friendship and exotic locales into an American household staple