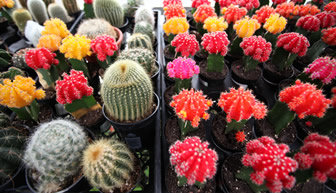 Mile 5.2 Greenhouse & Gift Shop, LLC is centrally located in downtown Eagle River, Alaska, just fifteen minutes from Anchorage. We have 125+ varieties of second year Zone 3, Perennials, berry plants and fruit trees. We grow 150+ varieties of colorful annuals along with beautiful hanging baskets in every color of the rainbow for both sun and shade. We're well known for our huge selection of herbs, especially basil. Fresh cut herbs are also available for all your cooking needs. We also have one of the largest selections of edible Tropical plants that you just won't find elsewhere.
We are much more than a greenhouse. We carry gifts and gourmet foods from around the world. Drop by for a present for any event or for anyone on your list. Our gifts are truly unusual and won't be found elsewhere. Our shopping environment is warm and humid year-round with pleasant smells wafting through the air. Even on the darkest coldest of days we are here to provide you with a tropical paradise. It is always spring at Mile 5.2 Greenhouse.
Check out our Unique and Easy to Grow Tropical Plants: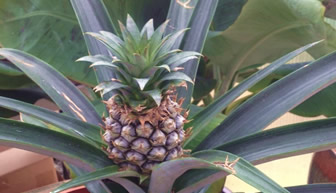 Banana Trees
Olive Trees
Pomegranate Plants
Sea berries
Coffee Trees
Fig Trees
Szechuan Pepper Plants
Lemon Trees
Goji Berries
Tea Bushes
Honeyberries
Bay Trees
Pineapple Plants
Hops Vines
Kiwi Vines
Grape Vines
We have many Wonderful Smelling Plants:

Sambac Jasmine
Chilean Jasmine
Lavender
Lemon Verbena
Poet's Jasmine
Pink Jasmine
Brunfelsia
Plumeria
Star Jasmine
Winter Jasmine
Gardenia
Scented Geraniums
Buddha Statues and Buddha Fountains
We have the largest and ever growing selection of Buddha statues and
fountains to bring peace, harmony and tranquility to your home,
garden and office.
Vintage Japanese Ceramics
One of a kind priceless, timeless, hand crafted plates, vases, bowls and urns from the 1960's.
Kugels
Made in Romania, our mouth blown glass spheres reflect light and direct positive energy.
Pre de Provence Soaps
Luxurious moisturizing soaps and body lotions from France made the old fashioned way with only the finest pure and natural ingredients.
Gourmet Foods and Chocolates
Soups, Crackers, Dips, Bread Mixes, Candies, Chocolates and Teas are just a few of our edible treasures.
We want to Thank You for supporting a small local business.