Amaryllis Bulbs
Our large 34+ cm Amaryllis Bulbs will produce at least two or more stalks. Each large Amaryllis bulb is labeled with a full color bungee tag. You will not find these size bulbs in your chain down the street. The large size of the bulb enables the plant to continue to flower and flower for weeks on end. The Double Amaryllis are a distinctive variation on the large flowering version. The flower size and stalk height are the same as the large flowering Amaryllis, but a "double" flower is produced. In essence, what you have is a stunning flower within a flower.
Growing the Amaryllis couldn't be easier. You simply plant the bulb in a pot slightly larger than the bulb with the tip of the bulb sticking above the surface of the soil. Place the pot in a brightly lit area of your home. Water thoroughly and then watch amazed as the stalks emerge from the bulb. Incredibly large beautiful flowers will form at the tops of the stalks and the bulb will send up successive stalks to flower. The flowers range from the purest white, the deepest red to all shades of pink and orange. The flowers can be solid colored, striped, fringed and patterned.
Customers rave about the length of time our large Amaryllis are in bloom and also about how easy it is to grow them. The colors are absolutely vibrant and exotic. They are such a welcome sight in your home or office during the dark mid winter days and bring that festive look to the holiday season. Amaryllis make for a wonderful thoughtful gift that will continue to bring pleasure for years to come. With a few simple instructions, it's easy to bring your Amaryllis back into bloom year after year.
About Amaryllis
Amaryllis is the only genus in the subtribe Amaryllidinae (tribe Amaryllideae). It is a small genus of flowering bulbs, with two species. The better known of the two, Amaryllis belladonna, is a native of the Western Cape region of South Africa, particularly the rocky southwest area between the Olifants River Valley to Knysna. For many years there was confusion among botanists over the generic names Amaryllis and Hippeastrum, one result of which is that the common name "amaryllis" is mainly used for cultivars of the genus Hippeastrum, widely sold in the winter months for their ability to bloom indoors. Plants of the genus Amaryllis are known as belladonna lily, Jersey lily, naked lady, amarillo, Easter lily in Southern Australia or, in South Africa, March lily due to its propensity to flower around March. This is one of numerous genera with the common name "lily" due to their flower shape and growth habit. However, they are only distantly related to the true lily, Lilium.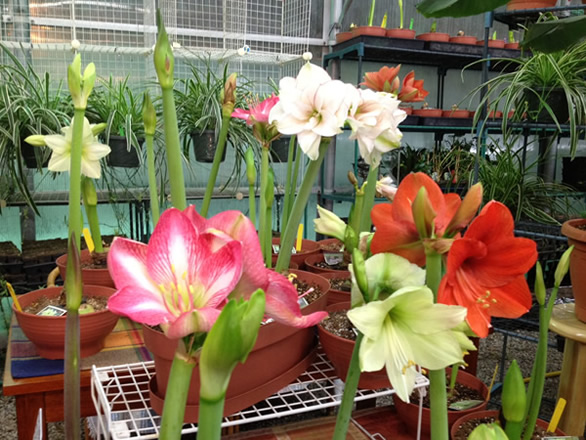 JUMBO VARIETIES (34 CM+)
These bulbs will start to bloom six to ten weeks after planting.
Aphrodite
Apple Blossom
Best Seller
Clown
Ferrari
Jewel
Lagoon
La Paz
Lemon Star
Naranja
Picotee
Rosy Star
Showmaster
Splash
Spotlight
Susan