FRESH ALASKA HERBS
CULINARY HERBS
MILE 5.2 GREENHOUSE & GIFT SHOP
For the best selection of fresh Herbs in the Anchorage, Eagle River and Palmer / Wasilla area, Mile 5.2 Greenhouse has a reputation for quality Herbs. Herbs were the starting point of our business more than fifteen years ago. That was all we grew and sold, just Herbs. Gradually we added on another 500 or so plant, bush and tree varieties. But Herbs have been with us from the beginning. We grow many from seed, some we 'buy-in' as tiny cells and grow them on, others we propagate from cuttings. In the summer our property is lined with large three foot diameter pots that are filled to overflowing with large legacy Herbs which we have carefully wintered over from year to year. We sell these Herbs fresh cut to a variety of restaurants and bars in Anchorage and beyond.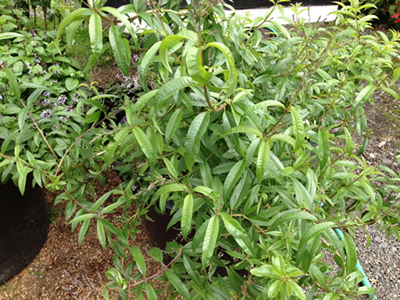 One sure sign of early spring in the greenhouse is to see customers walking up and down the aisles filling boxes with a variety of Herbs for their windowsills. Which Herbs do we sell the most of, you might ask? Basil definitely takes the lead year after year. Next come Lemon Verbena, Oregano, Thyme, Rosemary and then all the flavored mints are very popular. We sell our Herbs in a number of ways with the standard four inch pot size being in high demand. We grow mixed oval containers of Herbs with six or so Herbs together and also as hanging baskets. As they mature we sell them in ever larger size containers. Some grow well mixed in one container while others prefer one pot to themselves. Customers can create their own Italian or Mediterranean themed herb garden.
Some Herbs such as Basil, Cilantro and Dill are grown as annuals in Alaska. Several Herbs such as Chives, Spearmint and French Tarragon will reliably winter over outside. Many of the other Herbs are perennials and will winter over inside your home under certain growing conditions. Supplemental lighting must be provided from early September to early April. Much as people like to eat Herbs, so do certain bugs. Forewarned is forearmed; know what to expect insect wise and you can stay ahead of their arrival. Aphids, Thrips, Spider Mites, Fungus Gnats and White Flies are those most frequently found on Herbs. Certain organic products and practices will keep them under control and your Herbs in good condition.
It makes so much sense to grow your own Herbs and have them readily available and in abundance when you want to use them. You'll know they've been grown responsibly and there's so much to learn in the process. The growing and harvesting of Herbs is a form of lore and has been around since the most ancient of times all around the world. Herbs are used to flavor and accent foods but they are also rich is vitamins and minerals. Many if not all the culinary Herbs also have a positive effect on health and well being; some crossing over into the medicinal varieties. What is a more enticing smell than potatoes, carrots, garlic and onions coated with olive oil and slowly roasting in the oven with fresh rosemary and thyme? Or, what about a tall pitcher of iced tea made with a mixture of fresh spearmint and lemon verbena leaves?
We advertise and merchandise many of the Herbs as 'Fragrant Plants'. A pot of Lemon Verbena on your patio will pleasantly release oils when brushed against and help to repel mosquitoes. A container of Lavender promotes a soothing feeling when the leaves and flowers are squeezed. The many Mint varieties create a natural enticing smelling space in the garden or on the deck. Cutting or trimming back any of the Herbs fills a room with their pleasant fragrances.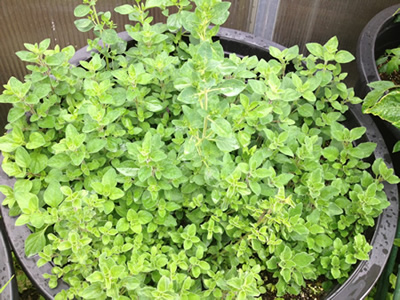 This year plan for an extensive Herb garden of your own. Try growing some in the garden and others in containers in your home and outside on a deck or patio. Choose from our extensive selection and look forward to your first harvest. These are some suggestions for plants to get you started down the path to that vast field of herbal knowledge. Drop by the greenhouse. We're always glad to share our experiences growing Herbs with you.
Herbs We Stock (When in season)
Basil:
Thai
Bay Leaf
Catnip
Chamomile
Chives:
Cilantro
Dill
Fennel
French Tarragon
Lavender:
Lemon Balm
Lemon Grass
Lemon Verbena
Marjoram
Oregano:
Mint:
Apple
Chocolate
Double
Ginger
Grapefruit
Julep
Lime
Orange
Peppermint
Pineapple
Spearmint
Rosemary
Sage:
Berggarten
Golden
Purple
Pineapple
Tri-Color
Savory:
Scented Geraniums
Shiso
Sorrel
Stevia
Thyme:
Parsley:
Curled
Italian
Scented Geraniums