Our Gem stone jewelry is handcrafted from start to finish in Thailand by the Vacharakom family. The Gems are initially purchased from Africa as larger stones. With time and patience the rough forms of the stones are painstakingly reworked into various sizes and shapes for setting into sterling silver. At every stage of the finishing process the Gems are carefully inspected for multifaceted sharpness, clarity and acuity by trained workers.
The form and layout of each individual ring, bracelet, earring and necklace has been creatively designed by a member of the Vacharakom family. Therefore, each piece is unique. The Gems featured in our jewelry are Amethyst, Citrine, Garnet, Peridot and Topaz. There is a brilliance to each of them from reflected light as if the Gems are alive. These are distinctive jewelry pieces that you just won't find elsewhere.
Some interesting anecdotal notes about the Gems we carry.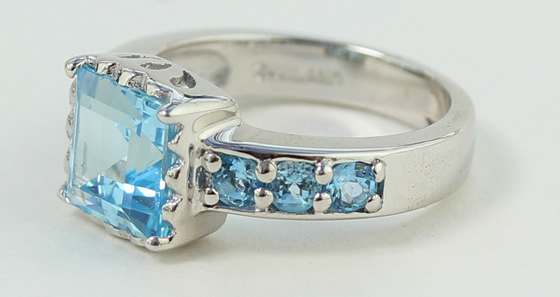 Amethyst
A rich shade of purple in color.
Helps with creativity and to eliminate stress.
Lucky on Saturday.
February birthstone.
Citrine
A sparkling brilliant yellow in color.
To encourage communication and organizing of ideas.
Lucky on Monday.
November alternate birthstone.
Garnet
A cascading deep red in color.
Provides balance for health, sexual awakening, circulation of blood.
Lucky on Sunday.
January birthstone.
Peridot
A lavish shimmering green in color.
An asset to relax the mind an keep the body in balance.
Lucky on Wednesday.
August birthstone.
Topaz
A light and breezy summer sky blue in color.
A symbol of beauty and glory, can enhance friendship.
Lucky on Friday.
November birthstone.
Gem stone jewelry makes for the most personal and appreciative of all gifts for every occasion. The creativity and attention to detail of the Vacharakom family in Thailand stands out in every very beautiful piece of this truly unique, quality handcrafted jewelry.
Please call us for pricing…