Lemon Trees and Lime Trees
Call us at (907) 694-3978 and reserve one now!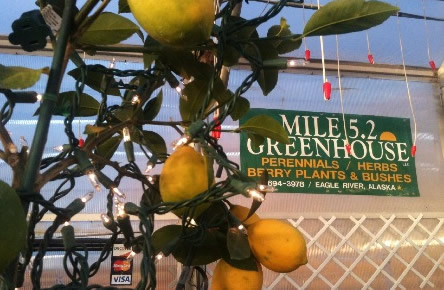 We have over 20 varieties of Dwarf Citrus Trees available
At Mile 5.2 Greenhouse and Gift Shop we offer the best selection of Dwarf Citrus Trees in the Anchorage, Eagle River and Palmer / Wasilla area. The trees are dwarf size but the fruit is full size making a perfect addition to any home or office. Awake to the smell of lemon blossoms in your own home. Watch and wonder as the flowers turn into fruit. Meyer Lemon Trees will flower or fruit year round. Our Lemon Trees are fascinating to grow. With a few simple instructions, the trees are also easy to care for. Take the tree home to enjoy and leave it in the pot as it was purchased for two years. Citrus trees like to be slightly root bound and it's important to know that they like to be grown on the dry side.
Your Meyer Lemon Tree tree can be placed on a patio or deck during the summer; so roughly, outside on Memorial Day and back inside on Labor Day. To start out place the tree in partial shade and out of the wind for a week then gradually transition to full sun. The trees thrive outside even during a cool, rainy, windy Alaskan summer. Use a fertilizer with that is high in nitrogen. At Mile 5.2 Greenhouse we supply an organic fertilizer specifically for citrus trees. The time from the first blossoms to when you can pick the lemons is generally six to nine months. The trees self pollinate.
Meyer Lemon Trees require 8 – 12 hours of "summer time bright" sunlight a day. It is essential in Alaska to provide a fluorescent grow light from September 1st through April 1st. The more light the better. Pick up your plant light in our grow section while selecting your tree.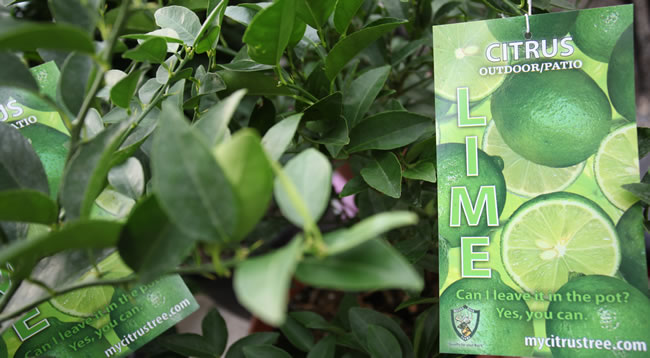 The Mile 5.2 Greenhouse and Gift Shop is a unique one of a kind retail nursery and gift shop situated on one acre of view property in Downtown Eagle River. We have a wide selection of Perennials, Herbs, Vegetables, Annuals, Hanging Baskets, Trees, Shrubs, Fruit Trees, Berry Bushes and indoor tropical plants. Our plants and selection of gifts change with the season. We specialize in edible and fragrant indoor and outdoor plants, bushes and trees. Indeed, a visit to our Greenhouse is a lot like a horticultural adventure. While you're here take a look at our other unusual plants such as Banana Trees, Coffee Trees, Fig Trees, Olive Trees, Tea Bushes and more. Some of our fragrant plants include Lemon Verbena, Lavender, Herbs, Scented Geraniums, Jasmine and Gardenias.
We're open seven days a week and conveniently located just a short 15 minute drive from Anchorage. We've been in business more than fifteen years serving the Anchorage, Eagle River and Palmer / Wasilla areas. Our knowledgeable and friendly staff are here to assist you in selecting just the right tropical plants for your home or office environment. It's always spring at Mile 5.2 Greenhouse!